NO MATTER where your tastes fall on the broad spectrum of genre, one thing is certain: 2014 was a milestone year for music in Savannah. Though we tend to be skipped on the drive down I-95, our town is quickly becoming a no-brainer tour stop for both famous folks in monstrous tour buses and indie kids in beat-up vans.
Legendary songwriters like John Prine and Art Garfunkel—the type of acts we'd typically have to hoof it to Atlanta or Orlando to catch—eagerly played to diverse audiences of Lowcountry fans. Ian McLagan, the acclaimed keyboardist for Small Faces and Faces who passed away two weeks ago, performed at The Wormhole in October.
It was a make-or-break year for Savannah Stopover, and they blew the lid off the whole weekend, bringing in huge buzz bands like Those Darlins, Wye Oak, Future Islands, Hurray for the Riff Raff, and Small Black (just for starters, and without even mentioning the smaller bands that we caught and are still watching with rapt excitement). Some of those bands were floored by Savannah's enthusiasm and came back later in the year to treat our ears again—a rarity two or three years back.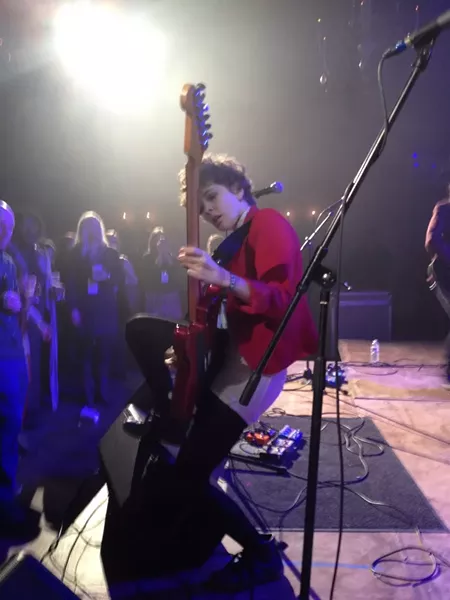 Jim Morekis
Jessi Zazu of Those Darlins tears it up at Savannah Stopover.
The Savannah Music Festival brought The Avett Brothers, Taj Mahal, and Robert Cray in an impressively varied and star-studded lineup.
With so many tough choices to make every weekend (and a lot of weeknights, too!), we reached out to local musicians to hear their take on the year's best performances—as fans and players.
"Between Stopover and killer bands like Those Darlins, Perfect Pussy, Priests, and Shonen Knife stopping through, trying to pick a favorite show is a struggle for sure. If I was hard pressed to pick one though, it'd probably be Halloween at The Jinx. Seeing so many local artists come together and have a blast was really something special. Plus, it was my first time playing to a crowd that big, so that year will always be something pretty rad in my mind."– Petee Worrell (Jeff Two-Names & the Born Agains)
"My personal favorite was the October 17 Savannah Philharmonic performance of Sibelius' 'First Symphony,' which I participated in." – Peter Berquist (Savannah Philharmonic)
Conductor and Artistic Director Peter Shannon led The Savannah Philharmonic through a banner year.
"Best performance this year was the Forced Entry, Crazy Bag Lady, Violent Reaction and The Flex show at The Jinx. I've never seen two dudes move the way Alex Raffray and Josh Sterno did. Two really hot dudes. Especially Raffray—nothing better than a dude who rips his shirt off and ends a set by throwing glitter into the crowd. I wish Josh Sterno was single." – Adam Intrator (Triathalon)
"Hands down, the tribute to The Band show we all did at the Lucas was out of this world. Ask anybody. It was a real smash, and it looks like we may do something very similar next year. I think that 2014 has proven to show that our music scene here in Savannah is better than it ever was." – Ray Lundy (Bottles & Cans)
"A-Town Get Down Festival is always amazing and gave us an incredible platform to perform. We and everyone who attended got to witness some amazing performances by local and touring performers, but we got to say, The Lee Boys were incredible. They light up the room with their infinite positive energy and sheer musicianship. One of those bands that a musician would call 'musicians' musicians.'We are looking forward to next year's A-Town Get Down Festival, not only because we will be performing again, but also to see what kind of magic will transpire with what will surely be another great lineup." – Melissa Hagerty, Tony Bavaro, Tyler Cutitta & Eric Braun (Omingnome)
"I loved being able to sit down and truly listen to City Hotel at the Trinity Concert Series last May. Those guys always blow me away but that environment is where they shine. I'll never forget that concert." – Eric Britt (American Hologram)
"This has been quite a thrilling year for music in Savannah. Actually, I knew that it would be that kind of year from Day 1, so I kept a spreadsheet of all the music I saw all year! Turned out, it was an incredible year. It really is difficult for me to pinpoint a single favorite performance of the year...especially when you have to choose from seeing Perfect Pussy, Preservation Hall Jazz Band, Charles Bradley, Warehouse & Red Sea, Weyes Blood & Sun Araw, or any of the amazing acts at Savannah Stopover. It was also very much the year of the small venue at Graveface Records & Curiosities, putting up such great acts like Priests, Friend Roulette, Empire! Empire! (I was a lonely estate), Soko, Elvis Depressedly, and LVL UP." - Ryan McCardle (mumbledust, co-founder of local label Furious Hooves)
"I'd have to say MuteMath in Forsyth Park! They are always an amazing band to see live and I loved seeing them up close under the band shell. Locally it's hard narrow it down because I loved seeing a lot of great performances from Wet Socks, Blackrune, Cusses, Crazy Bag Lady, Triathalon, Bent Out Of Shape, Bear Fight—the list can go on and on because we have such a great local scene." – Brent Collins (Whaleboat)
"This year's Halloween at the Jinx was the epitome of community and the spirit of the musicians in this town. I feel so very lucky to a part of this giant, extended musical family that continues to amaze and delight me. The Halloween tribute band night is always my favorite night of the year, but this year, the performances by the various makeshift bands were stunning. I don't know if I have ever smiled harder than I did that night. I always say that home is a feeling, not a place, and that night I was at home with my friends having the best party ever." – Greg Rettig (Ambrose, The Wave Slaves, Sins of Godless Men
"Future Islands and Juan Waters at Stopover, Band of Horses acoustic show at Trustees, and Jamison Murphy's last Savannah show at Graveface." – Rachael Perisho (mumbledust, Heavy Boots)
"Most memorable performance would be this one show Crazy Bag Lady played at Hang Fire. I don't remember if I was playing that night or when it was. All I remember is the band sound exceptionally good that night, and Josh being carried around the bar on a bar stool like an Egyptian pharaoh." – Hunter Jayne (Wet Socks, Triathalon, Taze Daze)
"I was checking out a Consider The Source show downtown one night, and thought to hit up my friend Matt Duplessie (of Word Of Mouth) to see if he wanted to join. Right then, from the sidewalk, I looked into the Jinx and see none other than Matt on stage as Clandestiny, his solo act! One man, one (or two) guitars, effect pedals, some hand drums and a mic... transcendence; ethereal, ambient vocals over moody, yet melodic chords. He's a phenomenal musician and artist and I'm glad to see him performing his solo work again." – Miggs