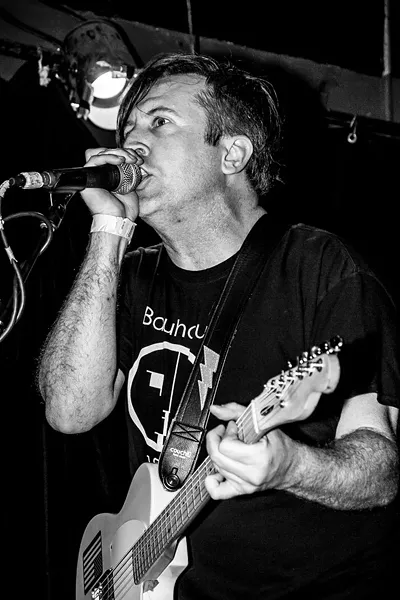 Meg Loyal Photography
Whores.
IT'S that time of year: Whores. is coming back! Atlanta's ferocious noise-punks put on one of the most tumultuous, balls-to-the-wall shows you'll see this year. From the technical precision of vocalist/guitarist Christian Lembach, bassist Casey Maxwell, and drummer Donnie Adkinson to the wall of sound they engulf their crowd in, fans of The Jesus Lizard, Helmet, Karp and the like will be hooked.
They head down from ATL with Dropout, who promise to be as just as thrilling as their bill mates. Machine gun drums, arsenal-crunch guitars, flesh-ripper vocals—really, it should have been Dropout's "They Eat Their God" blasting through that awesome guitar warrior guy's speakers in Mad Max: Fury Road. Fingers crossed for the next film, maybe...? It's their second time playing The Jinx, so give 'em a warm welcome back.
The Toxic Shock (Crazy Bag Lady's Josh Sterno and Daniel Lynch, masked, fronted by Greta Odrezin) have been a hometown hardcore joy to watch grow; they act as local support. Saturday, August 29, 10 p.m., $10