IT may be months before there are public screenings in the area, so we decided to see what Tomasz Warchol of CinemaSavannah is recommending that people stream these days. These are his favorite films of the last four years.
"CinemaSavannah fans will recognize some titles from our screenings, but there is plenty of quality films on the list that you probably have not seen," Warchol writes. "All these films are streaming on Amazon, Hulu, or Netflix and will keep you sane until the world reopens."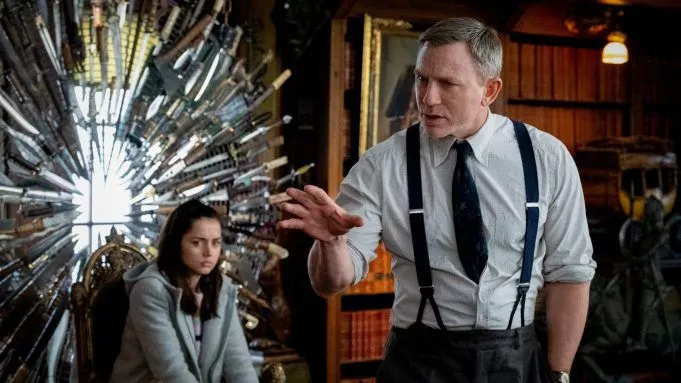 A still from "Knives Out."
2015
1. Brooklyn
2. Room (Canada)
3. The Salvation (Denmark)
4. Anomalisa
5. Son of Saul (Hungary)
6. Wild Tales (Argentina)
7. Phoenix (Germany)
8. Ex Machina (UK)
9. Carol (UK)
10. Mustang (Turkey)
11. White God (Hungary)
12. Zero Motivation (Israel)
13. Joy
14. 45 Years (UK)
15. Revenant
16. Trainwreck
17. Results
18. Second Mother (Brazil)
19. Pure (Swedish, on Netflix)
20. Obce Niebo/Alien Heaven (Polish) (Netflix)
2016
1. Moonlight *
2. Nocturnal Animals
3. American Honey **
4 Manchester by the Sea*
5. The Innocents **
6. Elle (new Verhoeven with the truly incredible Isabelle Huppert))
7. Paterson *
8. Eye in the Sky
9. La la Land *
10. The Lesson ** (Bulgarian)
11. The Survivalist **
12. United States of Love (Polish)
13. I, Daniel Blake*
14. Under the Sun (doc on North Korea)**
15. Julietta (new Almodovar)
16. Sicario
17. Hell or High Water
18. Loving*
19. The Love Witch **
20. Under the Shadow **
2017
1 The Florida Project */**
2. Get Out
3.Three Billboards Outside Ebbing, Missouri *
4. Shape of Water *
5. Wind River
6. In the Fade ** (German, dir. Fatih Akin, Golden Globe Best Foreign Film)
7. Loveless (Russian, dir. A. Zvyagintsev, Cannes/London winner)
8. Baby Driver (UK)
9. Lady Macbeth/Lady M. (UK)
10. Suntan (Greek, Edinburgh winner)
11. Detroit
12. On Body and Soul** (Berlin winner)
13. Beatriz at Dinner* (directed and starring Salma Hayek)
14. I, Tonya*
15. Perfect Strangers (Italian)
16. Strange Weather*
17. Zookeeper's Wife (Czech/UK, with Jessica Chastain)
18. The Big Sick
19. Call Me By Your Name*
20.Glory (Bulgarian)**
2018
1. Green Book**
2. Cold War** (Poland)
3. Leave no Trace
4. Shoplifters* (Japan)
5. Hate U Give**
6. The Guilty* (Denmark)
7. Three Identical Strangers**
8. First Reformed*
9. Revenge (France)
10. Searching
11. Custody* (France)
12. Sweet Country* (Australia)
13. Burning (S. Korea)
14. Nancy**
15. In Between* (Israel)
16. The Quiet Place**
17. Widows** (UK)
18. Roma (US/Mexico)**
19. At Eternity's Gate** (multi-national)
20. Eighth Grade
2019
My Top 25 Favorite Films of 2019
1. Portrait of a Lady on Fire* (France, definitely the best film of the year)
2. Just Mercy (most powerful drama of the year with Jamie Foxx, both cruelly ignored by the Academy)
3. Once Upon a Time in Hollywood
4. Joker (Joaquin Phoenix!)
5. Knives Out (tightest script in decades)
6. Pain and Glory*
7. Corpus Christi* (Poland)
8. Woman at War* (Iceland)
9. Amazing Grace* (doc about Aretha Franklin)
10. What They Had
11. Queen of Hearts* (Denmark, touchy subject with an unforgettable performance by Trine Dyrholm)
12. Parasite *(S. Korea)
13. An Officer and a Spy (France)
14. Clemency (another great "black" movie and performance by Alfre Woodard)
15. Feast of the Seven Fishes*
16. Marriage Story
17. Little Woods*
18. Honeyland* (Macedonia)
19. Cold Pursuit
20. The Two Popes
21. A Vigilante*
22. The Nightingale (Australia, a brutal revenge drama from Jennifer Kent [Babadook])
23. Wild Rose*(UK/Scotland)
24. Wild Nights with Emily* (Molly Shannon as irreverent Emily Dickinson, so much fun!)
25. Holiday