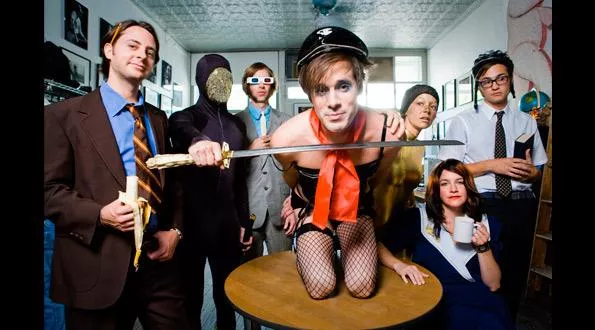 The third time will likely be the charm for the Savannah Stopover Festival, which announces the 2013 schedule -well, the bulk of it - this week with the benefit of hindsight, word of mouth and an ever-growing reputation among American indie musicians.
There'll be a couple of "headliner" acts at the multi-venue music showcase, March 7-9, making their way to the big SXSW conference in Austin. That's been the flashpoint for Stopover since it began in 2011.
Yet the focus, says founder Kayne Lanahan, will remain firmly on bringing the bands with buzz, those flying just under public radar.
"As you grow, you don't want to abandon the notion of discovery, which is what this is really all about," she explains. "But there's still a lot of these bands that have gone to the next level, if you will, that have never played Savannah, or play here very rarely."
Chief among these is the Athens collective of Montreal, which will play a free Stopover concert March 8 in Forsyth Park.
Kevin Barnes' quirky, experimental pop ensemble, a cornerstone of Athens' fabled Elephant 6 aggregate, has never appeared in Savannah, despite more than 15 years of popular underground (and overground) existence.
Lanahan says the band only agreed to play Stopover if theirs was a free, all-ages show.
More than 45 bands and artists have been confirmed for the 2013 Stopover, with new ones being added every day. A total of 82 acts appeared here last year.
"We basically just put out the feeler to 80 booking agents," Lanahan says, "and see what comes back in. And from there, we filter. And I would say maybe 20 percent of the acts on here, we've gone to directly."
There are repeat customers on the 2013 list, bands including Ponderosa, Country Mice, Turbo Fruits, plus electronic guitar wizard Delicate Steve and the astonishingly good singer/songwriter Cheyenne Marie Mize.
The Whigs, one of Athens' great power-rock trios, is returning to Savannah, as is cellist Ben Sollee, who's bringing a full band this time around.
Word has been getting around: Savannah. Stopover. Stop over in Savannah.
In three years, says Lanahan, "I think what we've realized is, it's the band experience that's helped grow it. It's the bands going back and telling other bands 'This is cool. We really like doing this.'"
It's that Southern hospitality thing, according to Blake Olmstead Mavrogeorgis, Stopover's PR coordinator. "They're treated so well here," she enthuses. "I can't even tell you how many times I got thanked, by everyone. And I'm getting e-mail like 'We played last year, but here's this band and this band, and they want to come now.'"
More "names" may yet be added - the Stopover brain trust has some white-hot irons in the fire - but when all is said and done, and the amps are plugged in, Lanahan plans to keep things on a smallish scale.
"The biggest challenge," she says, "is how to not have it become too big. Because part of that makes it, I think, so cool is the intimacy of it. And the fact that it's not like South By, where you've got 1,700 or 2,000 bands all competing for attention."
That said, here are some of the first-time performers to look forward to in 2013 (dates and venues TBA):
The Last Bison. A Virginia-based "chamber Americana" band that infuses acoustic music with strains of the classical. Formerly known as Bison.
Ambassadors. New York indie rock with a bullet (ie people are talking).
Merchandise. Raw, fearless punk trio from Tampa.
Mac DeMarco. Eclectic Canadian guitarist and singer whose voice recalls mid-period Lou Reed.
Ducktails. Guitarist Matt Modanile (of the New Jersey band Real Estate) with his side project.
Jonathan Toubin's Soul Clap & Dance Off. New York's premiere R&B DJ (he only plays vintage 45s) with a big-time soulfest and juried dance contest.
Dent May. A fascinating artist out of Mississippi, the Dentster plays a sort of retro '50s pop with his "Magnificent Ukulele."
Snowmine. Soundscapes, echo, acoustica/electronica and classical touches from a New York quintet fronted by neo-classical composer Grayson Sanders. "If Jurassic Park had a house band," wrote Pop Wrecking, "it would sound like Snowmine."
There's more, kids. Also on the firmed-up list are Filligar, Bronze Radio Return, Royal Canoe, Sean Bones, Yip Deceiver (a spinoff from of Montreal), Levek, Calvin Love, Henry Wagons, You Won't, Field Report, This Mountain, The People's Temple, Christopher Paul Stelling, Lee Baines II & the Glory Fires, Willian Tyler, Jacco Gardner, Mercies, Pree, Mobley, Chris Cohen, Shark?, Sun Club, the Wild Feathers and We Can't Enjoy Ourselves.
"When we started this whole thing," Lanahan adds, "a few people I know tangentially in the festival business said it's a three- to five-year proposition to really figure out if you've got something that's going to work, and last, and sustain itself - and Year Three is your year. So, no pressure."
Gory details department: The Savannah Stopover announcement will be celebrated with a bash Friday, Nov. 30 at ThincSavannah, 35 Barnard St. It look as if one of the confirmed bands will play a tippy-top secret acoustic show.
Tickets went on sale Nov. 27, and they look like this: $50 for a three-day pass. Regular priced VIP ($120) and Day Passes ($30) are also available.
Once the early bird passes are gone, the three-day pass is $75.
Check out savannahstopover.com. and, as they say, get yours now.