IT WAS one of those misty Savannah mornings when it would have been easy to listen to the little voice in the reluctant-runner part of my brain saying... "Aww come on, pull the covers over your head and settle in for another hour of sleep."
But I got going...because this was the Saturday of the Savannah River Bridge Run, and I was a registered member of the best team out there!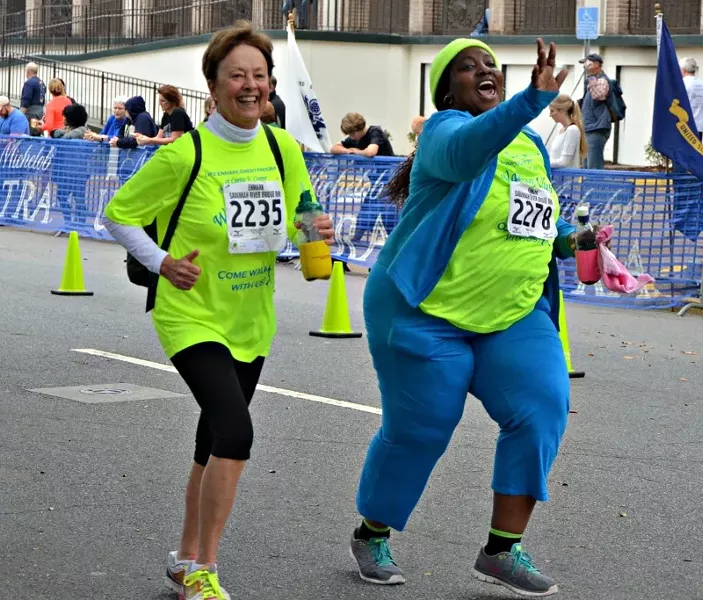 Sandy Haeger and Sharel Young crossed the finish line of the Savannah River Bridge Run together. They ran and walked the 5K as a duo to encourage each other to keep up their pace and complete the challenge that meant so much to them.
A group of 28 people who started our training barely knowing each other had become a Walking & Running Club. We proudly represented the non-profit Canyon Ranch Institute, Curtis V. Cooper Primary Health Care, and Connect Savannah as we ran and walked (no crawling necessary) in what's billed as the South's Toughest Bridge Run!
If you've ever finished a group run or walk, you know how exciting it is when you reach the finish line. And, it's even more fun when you find your fellow "athletes" from the group and celebrate with a hug and a thumbs-up for all!
When we started training, many of us were novice exercisers. But, we had a goal: Conquer the Bridge! And we did it. We all started and finished, with smiles of relief and sometimes surprise on our faces as we crossed that finish line.
Our only question is: What's our next fitness goal?
Christine Ferrelle, a nurse practitioner at Curtis V. Cooper Primary Health Care, and Lisa Reid, completed the Savannah River Bridge Run in style. Chris is a facilitator for the Canyon Ranch Institute Life Enhancement Program and Lisa was one of the first graduates. Both Lisa and Chris have been active members of the Walking Club for many months.
If you want to join the club, come on over to the Curtis V. Cooper Primary Health Care most Saturdays at 9:30 a.m. at 106 E. Broad Street in Savannah. We have wonderful group leaders, Palmer Steverson and Sandy Haeger, who are also two of the fitness instructors for the CRI Life Enhancement Program at Curtis V. Cooper Primary Health Care, which is brought to Savannah by civic leaders Charles H. and Rosalie Morris. If you have questions, email us at CRI@canyonranchinstitute.org.
Everyone is welcome!
The media was all over this big Savannah event, including Savannah's own WSAV-TV interviewed us as part of their coverage. In this photo, one of our Walking Club leaders, ACE-certified group fitness instructor Sandy Haeger, is shown talking about why we all teamed up to train safely and consistently and how we motivate each other to keep improving our fitness – One Step at a Time.