THESE DAYS, many businesses say they're community-focused, and plenty are true to that claim. Being engaged with our neighbors is actually good business, because if a community isn't thriving and healthy, its businesses will struggle.
Organizations across Savannah are supporting the Canyon Ranch Institute Savannah Partnership (CRISP), which is helping people make healthy choices every day through the energetic CRI Life Enhancement Program with Curtis V. Cooper Primary Health Care and the CRI Healthy Garden program at Trustees' Garden, as well as the CRI Theater for Health and CRI Healthy Table programs that will officially launch in 2015.
From left to right: Trustees' Garden Ambassador Paul Arkwright III, Dept. 7 East co-owners Chef Michele Jemison and Meta Adler, and CRI Health Literacy and Research Fellow Chad Lewis display the bounty of the CRI Healthy Garden at Trustees' Garden. The CRI Healthy Garden donates food to help people in need and also contributes to the pantries of several local restaurants, including Dept. 7 East, who offer CRI Healthy Garden organic herbs and vegetables in their dishes and then contribute proceeds back to Canyon Ranch Institute to re-invest in the CRI Healthy Garden and other programs delivered free of charge to the community. CRISP exists thanks to lead philanthropy from Morris Multimedia, Inc. and Charles H. and Rosalie Morris, as well as diverse CRISP supporters Bank of America, Dept. 7 East, Stratton and Mary Leopold and Leopold's Ice Cream, Pacci Italian Kitchen + Bar, Victory Gardens, and many more. Photo by Jason James, © Dept. 7 East
One CRISP collaborator – the one-year-old Dept. 7 East – is getting a lot of media attention, winning awards, and receiving outstanding reviews across social media for its delicious food and quirky sandwich names (Bonnie Blue, anyone?).
Dept. 7 East has also earned accolades and return business for its highly professional catering and in-house events, dedication to locally sourced ingredients, and even its charming décor.
But what little secret about Dept. 7 East isn't being blasted from Savannah's rooftops? This one: Dept. 7 East co-owners Meta Adler and Chef Michele Jemison are investing in the Savannah community by contributing time, money, food, and Savannah-style hospitality and love back to the people and place they call home.
I had no luck getting these ladies to brag about themselves. Meta and Chef Michele are great business partners and friends who finish each other's sentences and seem to have an unspoken pact about not tooting their own horns. So we're bragging for them!
They lay out their philosophy at their website like this: "We feel passionately for supporting local purveyors, farmers, and businesses, while always contributing positively back to our Savannah community."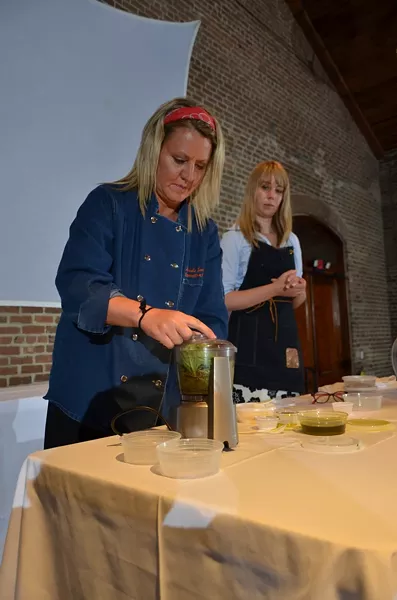 Dept. 7 East co-owners Chef Michele Jemison and Meta Adler donated their time, talent, and delicious food to the first reunion event of the CRI Life Enhancement Program with Curtis V. Cooper Primary Health Care. The reunion was held at the Charles H. Morris Center and brought together graduates of this completely free program to help them sustain their commitment to healthy living through physical activity, stress management, healthy eating, and having fun! Meta and Michele's demonstration cooking session added to what the graduates learned in the CRI Life Enhancement Program about shopping and healthy cooking on a budget. Meta and Chef Michele showed graduates how to prepare a delicious seafood dinner for less than $4 per person. Photo by James Byous, © Canyon Ranch Institute
In conversation, Meta and Chef Michele are much more apt to sing the praises of their suppliers, such as Davis Produce, Polk Produce, and Dubberly's Seafood. Check out the photos to learn more about Dept. 7 East and their commitment to CRISP and Savannah. And then visit them at 7 East Broughton in beautiful historic Savannah, online at www.dept7east.com, or call them at 912-232-0215.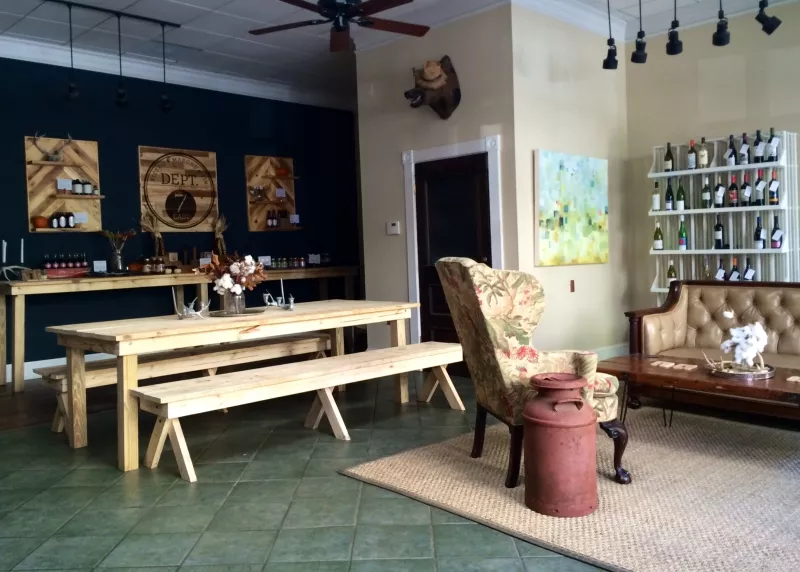 Dept. 7 East offers the enjoyable ambiance of a contemporary farmhouse, a feeling that carries into their innovative and fresh food and beverage offerings. Photo by Jason James, © Dept. 7 East
If you want more info about CRISP, call Canyon Ranch Institute at 912-443-3264 or email CRI@canyonranchinstitute.org.