Canyon Ranch Institute Savannah Partnership (CRISP) is changing the landscape in Savannah with a CRI Healthy Garden at the southeast corner of East Bay and East Broad Streets, where thousands of bus riders, tourists, walkers, and bikers pass by Trustees' Garden every year.
The goal of the CRI Healthy Garden is to develop a place where people can come together to learn about health and make a lasting connection between growing healthy food and living a healthy life. Healthy living includes eating healthy foods in healthy portions. In the rushed world of modern life, we sometimes need reminders to take time to enjoy our food. Mindful living and mindful eating are part of the CRISP effort, and the CRI Healthy Garden at Trustees' Garden is a living embodiment of those concepts.
Planting in raised beds is an excellent way to control soil quality and plant growth. Left to right: Lisa Reid, Savannah resident and participant in the CRI Life Enhancement Program at Curtis V. Cooper Primary Health Care, Inc. (CVCPHC); Renea Steverson, Savannah resident; Palmer Steverson, Fitness Core Team Member for CRI Life Enhancement Program at CVCPHC; Joseph Washington Jr., M.D., of CVCPHC; and Kerry Shay of Victory Gardens.
The work began in May when Canyon Ranch Institute teamed up with Victory Gardens, a Savannah-owned and operated edible, organic landscape design and installation business, to install 10 raised garden beds at the site, lay irrigation lines, and cover paths with wood chips to prevent weeds. On May 19, Kerry Shay and David Hislop of Victory Gardens joined members of the CRI team and volunteers from across Savannah who heard about the garden project from a variety of sources, such as Connect Savannah, Second African Baptist Church, many Savannah businesses, social media sites, and at the CRI Life Enhancement Program presented in partnership with Curtis V. Cooper Primary Health Care.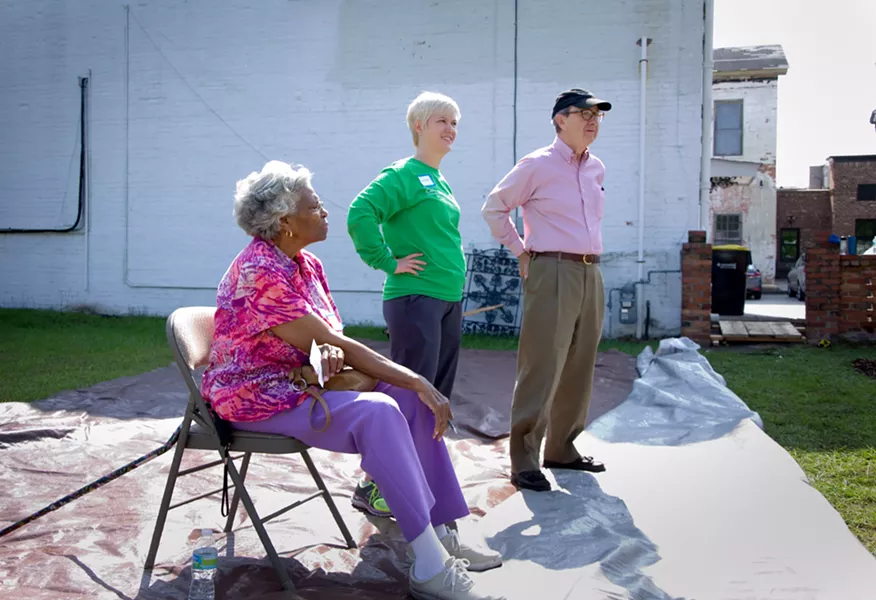 CRI Healthy Garden volunteer Catherine Torrence from Second African Baptist Church, CRI Executive Director Jennifer Cabe, and Charles H. Morris view the garden installation at Trustees' Garden, which is owned by Charles. Charles and his wife Rosalie are the funding partners for the CRI Healthy Garden.
At the gardening sessions, Charles H. Morris and Kathy Kurazawa from Morris Multimedia, Inc., parent company of Connect Savannah, welcomed volunteers. Kerry and David, as well as Jennifer Cabe, Chad Lewis, Jan McIntire, Andrew Pleasant, and Kelly Shannon from CRI directed the volunteers.
Raised beds at Trustees' Garden are reminiscent of the early use of the land as the nation's first agricultural experiment station. The beds are made with durable, insect- and rot-resistant western red cedar.
More than 40 people worked together to fill the beds with rich, organic soil, and planted a variety of vegetables, herbs, and flowers to attract pollinators. Drip irrigation lines were connected to an automatic timer to provide frequent water.
Victory Gardens' David Hislop moves soil to the raised garden beds with the help of C. MeGill Brown, pastor of Second African Baptist Church, Savannah Police Department Chaplain, and president of Curtis V. Cooper Primary Health Care's Board of Directors.
Volunteers are helping maintain the garden throughout the summer, harvest crops, and replant the beds in the fall. Interested in volunteering? Contact CRI at 912.443.3264 or cri@canyonranchinsitute.org.