CLARK GRISWOLD wasn't the first dad to drag his family on a road trip, and he certainly won't be the last.
"The Open Road: Photography and the American Road Trip" is a collection of over 100 photographs, curated by David Campany and Denise Wolff and organized for display at the Jepson by assistant curator Erin Dunn of the Telfair Museums.
Stephen Shores, U.S. 97, South of Klamath Falls, Oregon, July 21, 1973
The exhibition is organized chronologically, beginning with seminal photographers like Robert Frank. The works are from his book "The Americans," which was published in 1958.
"He was capturing America at a moment of change," explains Dunn. "He was showing America as it was, not how it wanted to be seen."
Dunn refers to Frank's most famous photograph, "Trolley—New Orleans," taken in 1955. Since segregation was still occurring, white people sat at the front of the trolley and black people sat at the back.
"As a Swiss photographer, he had a foreigner's perspective," she explains. "Obviously he loved the country, but there was a lot of stuff he was concerned with."
"The Open Road" deals with the disillusionment of the American landscape as much as it does the nostalgia of it. One of Joel Meyerowitz's photos, "Kansas," depicts a car crash on a Kansas roadway, replete with sadness and desolation.
"Joel returned from Vietnam to this landscape he didn't recognize anymore," explains Dunn, "so he went on a road trip to discover America again, in a way."
A major theme in the exhibition, as seen in Frank's work, is viewing Americana kitsch through a foreign lens, like the work of Austrian photographer Inge Morath.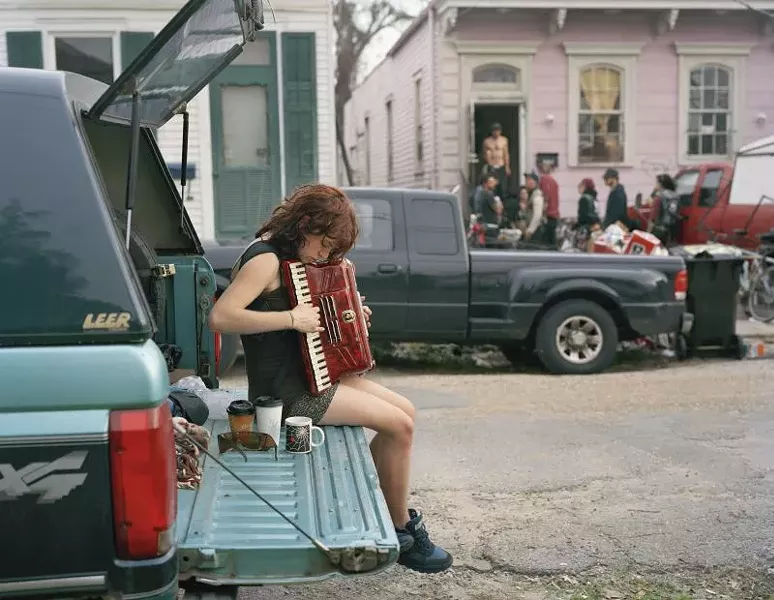 Justine Kurland, Claire, 8th Ward, 2012
"Inge Morath was coming into the country overwhelmed by how large it was and the food and the people," Dunn shares. "By the end of her trip, she was drinking green tea and eating raw vegetables because she didn't like the food available on the road."
Morath visited those quintessential road trip stops, like a Cherokee village in North Carolina, to capture people sight-seeing.
A photographer of note in the exhibition is Justine Kurland, one of the few female photographers involved.
"That's something to think about," Dunn prompts. "Who in the twentieth century had the time and capability to go on road trips? It was often men because they didn't have that domestic responsibility. Justine's amazing because she took her son Casper along with her."
"The Open Road" also includes the sort of photographs we've come to associate with the American road trip. Ed Ruscha's 1963 series, "Twentysix Gasoline Stations," shows 26 of the gas stations he encountered on his road trip.
"He was continuing Duchamp's idea of the readymades," Dunn says. "He considered himself a reporter on every gas station he came across. That was the architecture America was adopting—the landscape was being filled out and we needed gas stations to fill up our cars to travel the country."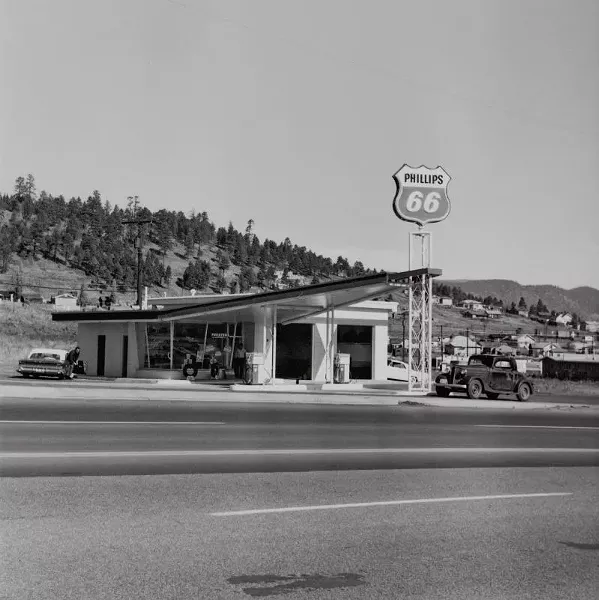 Ed Ruscha, Phillips 66, Flagstaff, Arizona, 1962
In her presentation of the exhibition, Dunn included archival material like Walt Whitman's Leaves of Grass opened to the poem "The Open Road."
"You can see this is a theme that didn't just start in the 1900s, but has been in the American mindset for a long time," she points out. "Then you start to have the road trip prevalent in literature, film and photography."
"The Open Road" is more than just a fun trip down memory lane; it's a great introduction to some of the finest photographers in our history.
"The road trip is this fun experience we can all relate to," Dunn says. "We've all done it, we've all taken our camera with us to take photos. You can place yourself in many of these photos. It's also a chance for us to introduce our audience to these wonderful photographers from American history."
cs