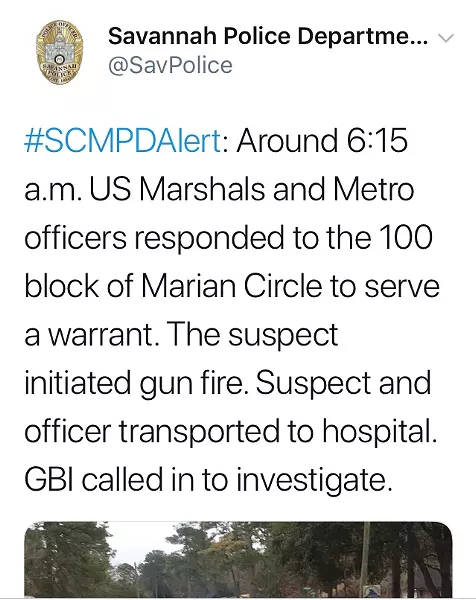 Police tweeted this at 8:03 a.m. January 23, saying Boyd had initiated gun fire; later they said he only had a BB gun.
The attorney for the family of a 20-year-old man shot and killed by Savannah Police earlier this year says proof exists that the police lied about the shooting.
On Jan. 23 of this year, Ricky Boyd was killed by police officers on Marian Circle as they attempted to serve a warrant for his arrest in the Jan. 21 murder of Balil Whitfield in Hudson Hill.
Police initially said Boyd came out of the house firing a weapon; then they said he came out brandishing a weapon which later turned out to be a BB gun.
Boyd was shot by police, and at least one police officer was injured by gunshots as well. However, it has never been conclusively stated who shot the officer.
"On the day that Ricky was killed by police officers, Savannah Police Chief Mark Revenew told the media that Ricky had 'initiated gunfire towards officers.' That statement was false. Later that same day, Revenew said that Ricky 'confronted officers with a weapon.' That statement was also false," says William R. Claiborne, the attorney representing Ricky's family.
The Claiborne Firm has released a video on the subject
here
. In it, Chief Revenew is shown contradicting himself in separate statements.
"We want the Savannah Police Department to release the body cam video, name the officer who shot Ricky, and clear Ricky's name," says Claiborne.
Claiborne and Boyd's family say flatly that he was unarmed when killed.
The Georgia Bureau of Investigation put out a press release on Jan. 24 claiming that Boyd had a carbon dioxide-powered BB air gun, not an actual firearm.
"The GBI never disclosed, however, where the BB gun which they are trying to pin on Ricky was found," says Claiborne.
The web video released today by the Claiborne Firm claims to include a photograph taken by a neighbor "confirming that the BB gun cited by law enforcement was nowhere near Ricky's body," Claiborne says.
The photo, which was taken shortly after Boyd was killed on Jan. 23, "reveals that the BB gun was 43 feet away from Ricky's body."
"In order for the [B.B.] gun that they found—which they claim he had—to be 43-feet away from him, [Boyd] would have had to have thrown that gun as his last act while he was being shot, and thrown it quite far," says Claiborne.
Jameillah Smiley, Boyd's mother, claims the GBI showed her the body cam video without audio following the shooting. Boyd's family is now calling on the police to release the body cam video to the public.
"They will see that my son never had a gun," said Smiley. "They will see an innocent person getting shot down – that never had a chance against the people that came and accused him of a crime that he did not commit."
The GBI is currently justifying not releasing the video to the public on the grounds that the case is still an active investigation and therefore exempt from open records law.
However, Claiborne answers that "if that's the reason for not disclosing evidence to the public, why did police release a photo of the BB gun to the media? The police do feel free to release information when it suits them. There's a dangerous double standard."
The Boyd shooting was part of a larger picture of crime in Savannah early this year; at Boyd's funeral on Feb. 4, a 12-year-old boy received a serious gunshot wound when shots rang out right after the service at Bonaventure Funeral Home.
Boyd's shooting came the first week of Chief Revenew occupying the office with the resignation of former Chief Jack Lumpkin.
As recently as last month police were still counting the Whitfield murder as an open investigation, despite the death of Boyd, the leading suspect.
"That means the Hudson Hill murderer is still at large, and still walking around somewhere out there," Claiborne says.
A tweet from Savannah Police the morning of Jan. 23 says Boyd "initiated gun fire."